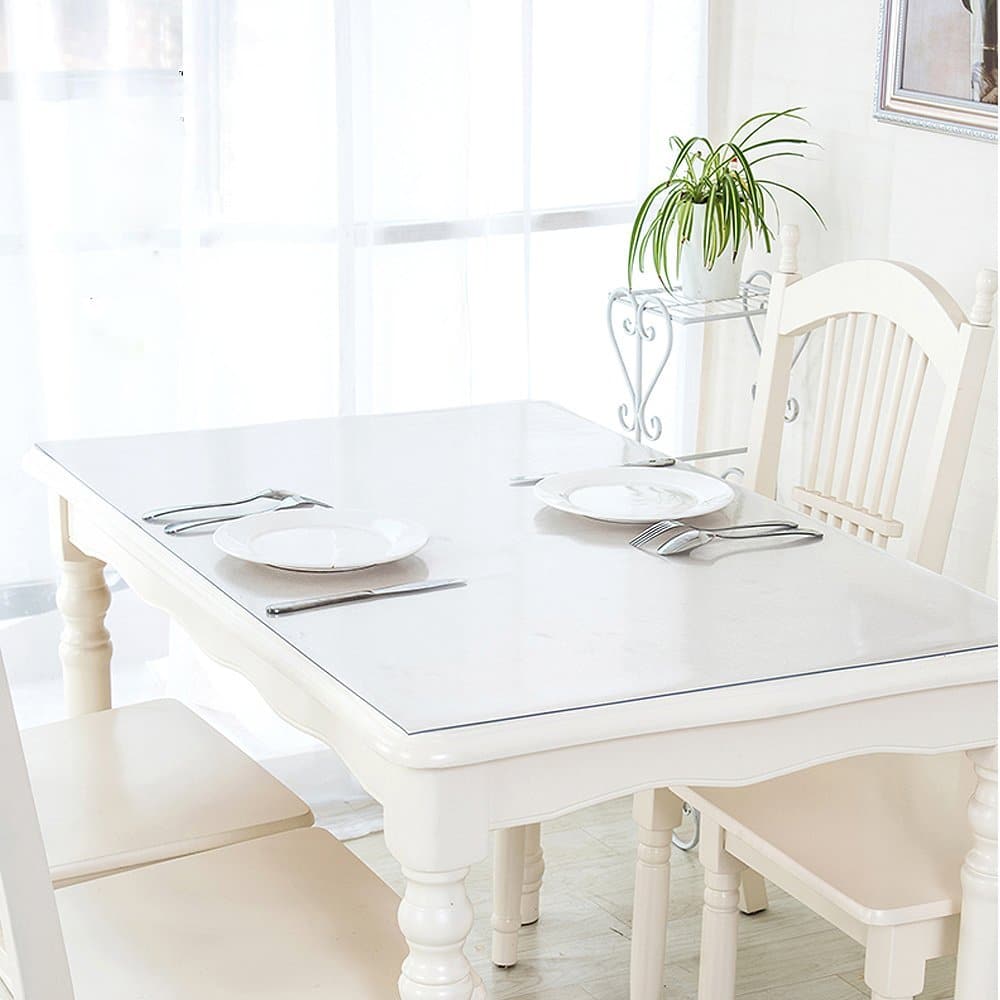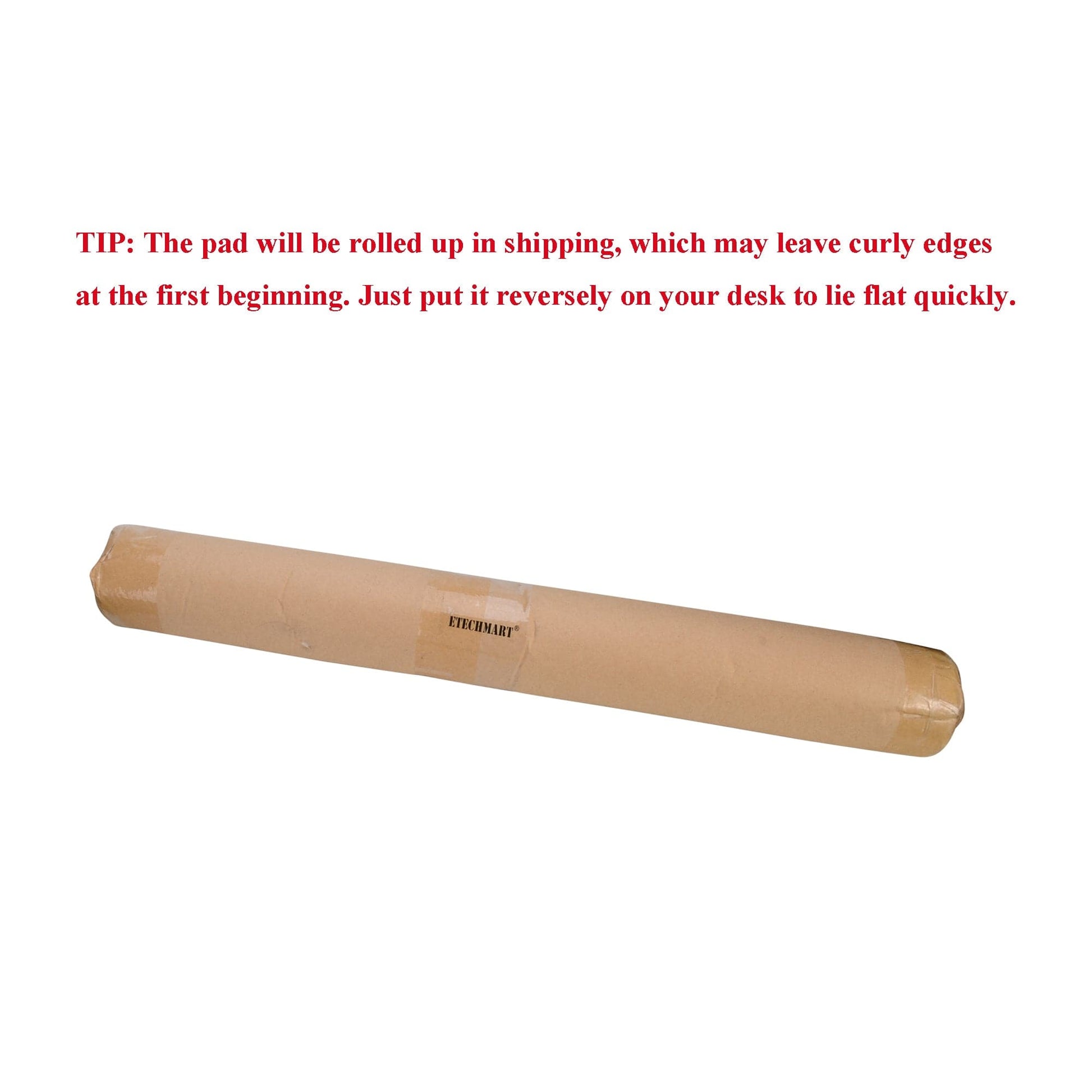 Etechmart Clear PVC Table Top Protector Thick Multi Size
Sale price
$28.50
Regular price
Tax included.
Custom size Please Click "Contact Us" or "Chat with us"
25 people are viewing this page this right now
Estimated Delivery:Dec 05 - Dec 09

Free Shipping & Returns: On all orders over $30
Product Description
Product Reviews
Shipping & Return
Custom size, you can contact us for via "Contact Us" or "Chat with us"
Transparent PVC cover protects your table surface against stains, scratches and heat, moreover, shows the beauty of your own table or tablecloth and goes well with any decorative color schemes.
Ideal for most tables - for SMOOTH AND POLISHED SURFACES such as stoving varnished, marble or glass tops, please use FROSTED COVER instead to avoid watermarks and air bubbles.
ETECHMART eco-friendly PVC sheets, SGS authenticated of high tenacity, stability, heat resistance (up to 160°F/70°C), are built to last a long life span.
ATTN: We usually cut a bit larger than actual size to avoid shrinkage caused by cutting or packing in shipping, hence slight size difference is not qualified as a quality issue.
1.5mm is moderate for all furniture such as dining tables, office desks, counters, night stands, writing desks etc.
If you want a fast way to protect your table tops, this Vinyl/PVC cover is a good choice.
*Effectively protects your table top or tablecloth from daily wear and tear or your naughty kids!
*Shows the beauty of your own table or tablecloth
*Eco-friendly level PVC, formaldehyde-free and phthalate-free
*Low maintenance, waterproof and wipe clean
*Non slip, grips the surface and stay in place
*Firm yet elestic, easy to pack up and recover
Q: Will this table protector put on a table easily slide off?
A: The protector is heavyweight, not like a thin clear tablecloth, it won't easily slide off.
Q: Up to what temperature does it protect a wood table?
A: Maximum heat resistant up to 176°F/80°C, it can tolerate warm plates & cups. A placemat on top of it is recommended for hot plates.
Q: Will this stick to and/or leave a mark on my wood dining table when we remove it?
A: The CLEAR pad is a bit sticky, if your table is Brand New or just repainted, for security, please cover the CLEAR pad on top of a table cloth or choose a FROSTED one instead, because the painting of a brand new top may not dry enough and it may stick to the item.
Q: Does the plastic table cover have a "plastic smell"?
A: We select high-quality PVC rolls to get rid of the strange or irritating odor, yet a normal "plastic smell" is inevitable and will dissipate soon.
VARIOUS APPLICATION
Great for all furniture such as round tables, dining tables, office desks, coffee table, nightstands, writing desks, wooden tables, etc.
VARNISHED, GLASS, MARBLE TOPS
Use a FROSTED cover for smooth and polished surfaces.
SIZE ON ARRIVAL
We usually cut a bit larger than the actual size to avoid shrinkage caused by cutting or packing in shipping, hence a slight size difference on arrival is NOT qualified as a quality issue.
AFTER SHRINKAGE
PVC sheets may shrink a bit while unrolled or cut, but our professionals will make it closest to the size you require.
TWO THICKNESS
1.5mm is moderate for all furniture such as writing desks, counters, night stands, conference desks etc.
2.0mm is the best thickness recommended for kitchen and dining room where is highly likely to contact with heat
CUT TO FIT
1.Please keep 0.2-0.5 inch extra tolerance for margin of shrinking.
2.Mark the exact measurement with pencil
3.Cut to size with a sharp blade or scissors.
HOW TO MEASURE?
Please measure your tabletop measurement (Wide x Length), then choose the right size or order a bigger one to cut to fit.
Customization: Inquire the seller ahead of order and get an exclusive link. ( Custom Shape&Thickness Should Include )
Custom Shape: Rectangle, Oblong, Square, Round, Oval.
Custom Thickness: 1.5mm, 2.0mm Thick
TIPS TO MAKE IT FLAT
Expose under sunshine in hours to make it flat.
Lay table protector in reverse-roll direction and put heavy items pressing on it to make it flat.
Steep it in hot water in minutes to make it flat.
Use your hair dryer to heating it to make it flat.
Delivery Timing
All standard orders will be dispatched within 3 working days. The standard delivery timeline will be 3 to 10 working days after dispatch. The tracking ID will be sent via mail after dispatch. Containment Zones may experience some delay.

For orders placed after 18:00 hours, the order processing begins the next day.
All orders ship through FedEx, USPS,  UPS depending on shipping rates.
We currently only ship to the United States .
 We offer free shipping for orders over $30 to the 60contiguous United States. For orders under US$30, we charge a shipping fee of $4.
Once you've placed your order, our products typically ship from our warehouse within 1-3 business days. Once a product has shipped, you'll receive a tracking number that you can use to follow your package as it makes its way to you
We ship orders Monday through Friday. Please note we do not ship on Saturdays or Sundays. 
NOTE: As the holidays are approaching, expect to see delivery delays. These are unfortunately going to impact all businesses globally. We will do our best to monitor the situation and keep you up to date. 
If you are concerned about getting it before a certain date, please reach out and we will do our best to help. 
Once it leaves our warehouse, we have little control over the package. Your best bet it so contact the shipping company (FedEx, USPS, or UPS).
Before ordering PLEASE check your local customs/tax fees. These fees are upon you to pay and are NOT the responsibility of etechmart. The customs fees will be a fee set by your country. These fees are on top of the product and shipping fees that you already paid. We will do everything in our legal power to help you to not pay these fees but we will not break the law to do so.
Occasionally a package will miss a scan checkpoint and stop updating. If this happens your package is likely still on its way. Feel free to reach out to us at info@etechmart.net for help
Cancellation Policy
After having placed their order, customers may cancel their order only if the order has not been dispatched yet. We do not accept any cancellation orders after the product has been dispatched from our warehouse.
Return and Exchange Policy
If you are not satisfied with a product that you have purchased on the Etechmart website, we are here to help!

The product bought will only be accepted for refund or exchange if they are intimated within 30 days after the delivery and if they meet the following return criteria :-
Items are in their original state along with bills, tags, and original packaging.
Items must have no visible signs of tear and use.

If your purchase meets our return criteria stated above, you can return your product for a different product or a refund equivalent to the original payment done for the product being returned.

Please email our care team at info@etechmart.net within 30 days of delivery with the following information:-
Order number
Delivery address
Specify the reason for return and in case of a defective or incorrect product, please send us an image of the item.
Once products are received, we will process your refund, store credit or replacement. Please allow 5-7 business days to appear on bank statement. Note that Customer is responsible for any shipping costs.
In the event you would like to exchange your item for a different color or size, you are responsible for shipping items back to us. The new item will be shipped to you for free, unless you are located in Hawaii, Alaska or Canada. In that case, buyer is responsible for all shipping costs.